The Wise Men Are on Their Way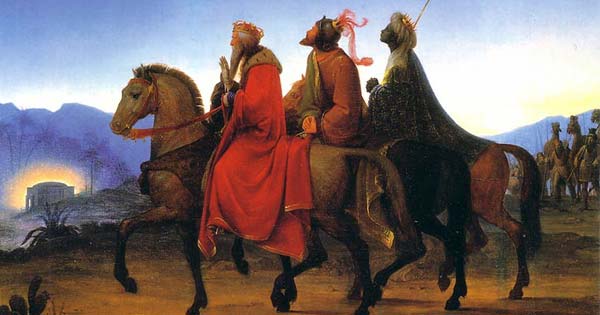 As I walk from room to room in my house, a feeling of ambivalence grips my heart just like it does every year at this time, reminding me with every door I open and every corner I turn that Christmas is officially over for another year. Whimsical snowmen and jolly Santa figures no longer greet me with a cheerful wave of the hand, and electric candles no longer cast a warm glow from the window sills. And gone is the scent of balsam and bayberry mingled with peppermint and holiday spice that, up until this week, wafted pleasantly throughout the house from a delightful assortment of Christmas-themed candles. But most conspicuous of all – the absence of that majestic evergreen spectacle that stood in the corner of the living room, casting light in all directions and boasting ornaments so rich in spiritual significance, family history and sentiment.
So why the ambivalent feelings? I guess the answer to that question, if I am to be truthful, is that I really do start out the month of January wanting to get all those decorations packed up and have the house return to normal. But when the job is done, that's when I'm hit with the reality that the magic is gone and the party's over. Or is it?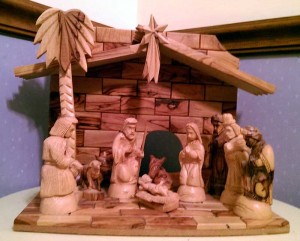 Even though the Christmas decorations are packed in boxes and stored away now, there is one exception. It's a very special Nativity set that our son-in-law Stephen brought to us from Israel. It's made from olive wood, each piece beautifully handcrafted, and I've decided that it will stay on display year round. The set consists of a stable, the Holy Family, a few animals, a shepherd and three wise men (the Magi). Due to lack of space on the table, I have all these characters placed cozily together in the stable, wise men included. However, I've known for some time that the Magi don't actually belong there and more than likely weren't necessarily three in number. I learned this tidbit of information in 1976 during a visit with my husband's Great Aunt Sophia…
It was Christmastime, and we sat with our four-year-old daughter Lisa in Aunt Sophia's living room, chatting about this and that as we enjoyed her traditional homemade pfeffernusse cookies and divinity candy. We didn't use Aunt Sophia's coffee table for our treats because she had meticulously arranged a Nativity scene on it. There was something about her setup that struck me as curious, but I didn't ask about it until my little girl whispered this question in my ear: "Why did Aunt Sophia put the Wise Men at the end of the table so far away from the stable?" So now I had to ask.
"Oh, but the Wise Men never went to the stable," Aunt Sophia explained. She was very serious. "You see, it took them quite some time to travel from the east, and by the time they found the Christ Child, Joseph and Mary had already moved into a house."
How did I ever get to be in my mid-twenties without anyone ever telling me that?
A little further study on the subject proved to me that Aunt Sophia was right, even though the various sources I've read can't seem to agree on the actual time frame. It runs anywhere from twelve days after Christmas, otherwise known throughout Christendom as Epiphany (January 6), to two years (as indicated by evil King Herod's decree to slaughter Jewish boys up to the age of two). Regardless of the time frame, we know that wise men followed a special star, searched for and found Jesus and they brought him gifts.
And so, that brings this blog around full circle. The decorations are in boxes but the Wise Men are on their way, and Christmas is never over.