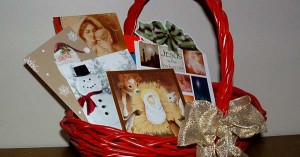 I just love Christmas cards. When you open your mailbox and find a stack of Christmas cards there, doesn't it bring a smile to your face? A warm, fuzzy feeling? A little holiday cheer? I say, "Yes! Yes! and Yes!"
Even though it seems to be an ever-fading tradition, I still love to send out cards as well as receive them. I read each and every one – several times before the season is over. It touches my heart to think that someone thought about my family and took the time to get a card ready and put it in the mail just for us. I love the variety in styles, too. Scenes of winter wonderlands, jolly snowmen, Christmas trees and festive candles all wait to greet me when I tear open the envelope. There are also pictures of carolers dressed in Dickens era clothing, and the smiling faces of my friends and their families (including the pets!) as well as Wise Men bearing gifts, Mary holding the Christ Child, and shepherds in awe of Baby Jesus in the stable.
The greetings may come from near and far. And if you think about it, it's really amazing how each card finds its way from someone's desk or table in another city or state or even another country to our home. I'd really be sad to see this spirit-lifting tradition disappear.
Quite a few years ago – 1998 to be exact – I wrote my first ever Christmas play for church titled Christmas Cards. This one also happens to be my favorite of the plays I wrote. The underlying theme of the story is "reconciliation" – between God and mankind as well as between humans. The setting is the living room of Carl and Nancy and their son Trevor who have invited Carl's "scrooge" of a boss, Hudson Stonehart, and his wife Isabelle to a Christmas Eve dinner. Wisecracking Uncle Chris, Aunt Susie, and cousin Katie are also among the dinner guests. Uncle Chris doesn't look forward to spending Christmas Eve with the Stoneharts and he's very vocal about it.
Hudson and Isabelle Stonehart have lost the Christmas spirit due to personal family problems (a rift between them and their son) and they begin the evening by griping about everything associated with Christmas. But a collection of Christmas cards unexpectedly provides Carl and Nancy with the perfect opportunity to share the true meaning of Christmas with them. As the family ventures through the Christmas story via Christmas cards, an amazing transformation begins to take place in the hearts of the Stoneharts.
For a little family fun with the kids this year, try lining up your Christmas cards in chronological order of the nativity events and watch the Christmas story unfold. Discuss each card like Carl and Nancy did for the Stoneharts. And if you're interested, you can read the play Christmas Cards by clicking here. You may also download the play for free to use as you like. (Remember, the suggested songs are what we used in 1998. I'm sure many newer songs are available now that would fit the bill.)
Take the time to enjoy your Christmas cards and Merry Christmas to all! As Tiny Tim would say, "God bless us everyone!"