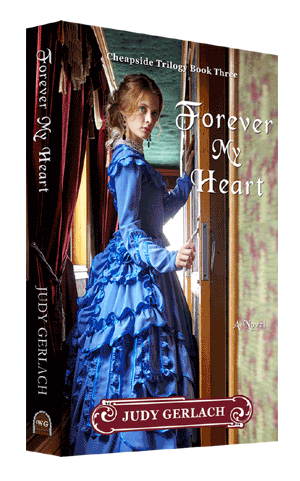 Fans of the novel Redeeming Love will especially enjoy the story of Alifair and Harrison in Forever My Heart.
Can one man's vile act destroy another man's future? Can it taint a woman's virtue? Can the innocence of a child mend a broken promise?
There is no fear in love; but perfect love casts out fear. (1 John 4:18)
While slave auction blocks like Cheapside fade into history, the Underground Railroad flourishes in the shadows. The War Between the States rages on. There are heroes, and there are villains. War crimes abound. There are victims. Many victims, like widowed Alifair Brooks, are women.
Shame silences Alifair as she fights a war on another front—her own private war—deep inside her soul. She loves her fiancé, Harrison Haywood, too much to hold him to his promise even though he desperately wants to help her heal. Must she break his heart to set him free? But what about her little son? Sam's bond with Harrison is just as powerful as the love that binds them all together. Where can she run to make a breakup less painful? How can she erase the memory?
This is Alifair's story.
Reviews
---
A vast array of emotions as one journeys with the different scenarios of the characters. [The author] did an excellent job addressing how a woman would feel after being raped, particularly in the 1860's. My favorite one in the three book series. (Pamela Mayor)
---
Forever My Heart, the third book in the Cheapside collection written by Judy McCoy Gerlach was a great book to read. The characters in Forever My Heart were also in her first two books; Ransom My Heart and Shelter My Heart. She makes you feel like they are real people and even people you may have known. Alifair and Harrison faced some of the same challenges many people currently live with including hatred, war, being a single parent and assault. They were able to overcome these challenges with the true love they had for each other. I recommend if you haven't read her first two books you do so and if you have read them make sure to read the third one. (Diane V.)
---
I could not put this book down!! I feel, by far this was Judy Gerlach's strongest writing. Because I "knew" the characters (another great strength of this author), I was immediately drawn into the story. Her treatment of the rape was so gritty that I could feel that scoundrel's touch and smell his stench-yet it was not graphic or explicitly detailed. For me, authors that let the reader use his/her own imagination are the most effective in developing that element of the story. The roller coaster of Alifair's emotions made me want to hug her and give her a good shake!! Well done!!! (Jan Kasten)
---
If you are looking for a great book to read I highly recommend "Forever My Heart" by Judy Gerlach. You will not be able to put it down. It is the third book in a series. I am looking forward to her next book. Great work!! (Debbie Back)
---
It's such a great story and it had the perfect ending. It just ended too soon for me. (Julie Goldcamp)
---
I enjoyed Forever My Heart. I really liked the emphasis the author put on the rape. It seems like it would destroy you from the inside. I think it's very important for people to realize what it does to a person. I know if it happened to me that I would never feel clean again. I was glad that Alifair and Harrison had a happy ending because they truly loved each other. I liked all Judy Gerlach's books; I couldn't pick a favorite. (Elizabeth Wolfe)