A random summer day in 1966. Greenville, Ohio. Two fourteen-year-old girls with stars in their eyes. Two bicycles (mine was a Huffy). Handlebar baskets trimmed with colorful plastic flowers—So Groovy! Two sack lunches. A couple of dollars in our pockets. One transistor radio. A spirit of adventure.
So began a free and easy, sunny kind of a day for biking with my friend Becky. It was late morning. Yes, we had a destination, but neither of us expected anything out of the ordinary to happen when we got there. What if we were wrong, though? Secretly, we hoped we were. Our heads in the clouds, we really did hope for that one-in-a-million chance that something fab would transpire.
"Are you sure you remember how to get there?" My partner in crime skewed her lips and gave me a dubious look.
"Yeah, it's easy," I replied, confident I had a coherent vision of the path we would take. "I memorized it when I went with my dad last week."
Dad had let me go with him a week or so earlier to Union City, Indiana—a short, fifteen minute ride in the car. For him, the purpose of the trip was to take care of some business. I have no idea what, and I don't remember that part of it at all. The only reason I wanted to go with him was because he knew where a certain boy lived. The reason he knew was because he was acquainted with the guy's parents somehow, probably through music since Dad was a well-known jazz musician in the area.
When Dad finished taking care of whatever it was he had to do, I asked if we could drive down the young man's street before we headed back to Greenville. He didn't seem to mind at all. We simply drove down the street, no stopping, and that was it. That's all it took. I'd seen the house and took note of how we got there. Dad had no clue what was going on in his crazy kid's head.
Not only that, he never would have guessed he was aiding a teenage celebrity stalker.
So Becky and I hopped on our bikes and pedaled away, bathed in sunshine and geared up with flower power. Popular hit radio station WING in Dayton, Ohio, blared from the little transistor as we sang along to songs by the Beatles, Monkees, Mamas and Papas, Rolling Stones, the McCoys, Beach Boys, Supremes, and a host of other artists too numerous to name them all.
About an hour and a half or so into our journey, we stopped to eat our picnic lunches, and at that point, we realized we probably hadn't really gone very far. Evidently, the fifteen minutes by car translated into eight times (or more) longer on a regular bicycle. Who knew?
Undaunted, we pedaled on. And on and on.
I'm guessing it was about two and a half, maybe three hours from the time we left Greenville until we reached the state line and crossed into Union City on the Indiana side. We made it! What a rush of exhilaration! Everything was as I'd remembered it when I went with Dad. In mere minutes we would turn the corner and ride down the street where a newly famous rock band had gotten its start. Right there in the family's garage!
We arrived at the corner of the street and stopped. I pointed a few houses down to the object of our quest. "That's his house, Becky." Two very large motorcycles sat in the front yard. Yes, two! Probably Harley Davidsons, but I'm not sure. "Should we ride down the block or not?" For some reason riding a bike seemed a lot more intimidating to me than riding in the car with my dad. My heart was racing. I assume Becky's was, too.
"We didn't come all this way for nothing," Becky reasoned. "We have to."
"You're right." I took a deep breath. "We have to."
As we pondered that decision, lost in the moment, what to our wondering eyes did appear, but two mop-topped rock stars exiting the front door of the house. They walked from the porch to their motorcycles, and stood there talking. They glanced toward the corner where we were, and we knew they saw us. Imagine that … they were looking at us looking at them. If ever there was such a thing as a giddy school girl, I'm pretty sure we fit that description perfectly.
Who were these young men, you ask? None other than Rick Derringer (known as Rick Zehringer at that time), guitarist and lead singer, with bass player Randy Hobbs, both members of the band the McCoys. Outta sight! I mean, what were the chances? The McCoys had burst onto the pop rock music scene with the wildly popular hit song "Hang on Sloopy", which rose to the number one slot on the Billboard Hot 100 chart on Oct. 2, 1965.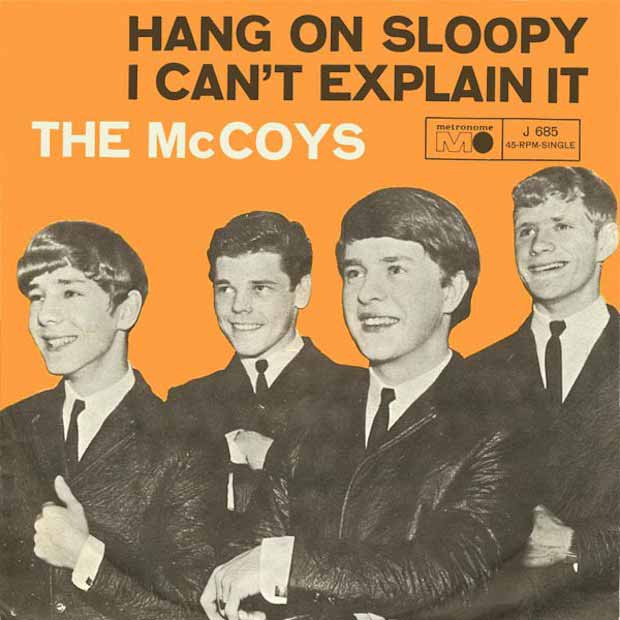 We resumed our pedaling, heading right down the street toward them, slowing down a bit as we were passing by the Zehringer house. We hadn't discussed whether we would stop and talk to them if such a scenario was to present itself. Who'da thunk it? Feeling timid, I was inclined to ride on by. I have no idea what might have been going through Becky's head. Then one of them, not sure which one or maybe it was both, called out, "Hi, girls!"
That's all it took. We waved to them and said "hi" back. Next thing I remember, we'd parked our bicycles and ended up talking to them right there next to those huge motorcycles. We asked lots of questions, and they told us about their recent trip to England and all the famous musicians they'd met there, including the Beatles. We told them how we had tickets to see the Beatles in August in Cincinnati, and they thought that was cool. I also remember Rick telling me he knew who my dad was. My maiden name is McCoy, so that made for some interesting conversation. And in case you're wondering, the band's name has nothing whatsoever to do with my family.
I don't remember how long we were there, but I do remember starting to worry about making it back home to Greenville on time and wondering what my parents would say. When Becky and I indicated we should head back home, one of them asked if we'd like a motorcycle tour of their "grand" city first. (Union City population approximately 4,000 at that time)
I couldn't believe my ears! I'd never in my life ridden on a motorcycle. My eyes wide, I glanced at Becky. I don't know if she had either or if she wanted to take a ride as much as I did. Once again, the details are foggy, but somehow I ended up behind Rick on the seat of his bike while Becky rode with Randy, and off we went. How ironic that the "Hang on Sloopy" guys told us to hang on.
I kid you not, my first ride ever on a Harley was a grand five-minute tour of Union City, Indiana, with Rick (Zehringer) Derringer! Wow. But what stark contrast for us upon our return to Rick's house when we had to transfer to our pedal-powered, girl bicycles with the flowers on the baskets. Can you say square? We thanked them for talking with us and for the ride around town. Then we pedaled off to the first phone booth we could find. I had to call my parents and tell them where we were and that we'd be late. My dad answered the phone. Gulp.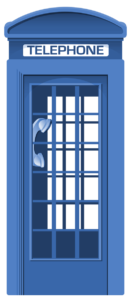 "Dad," —oh boy, what a nightmare—"Becky and I are going to be a little late getting back to Greenville. Just wanted to let you know."
"Okay … but why? It's only three o'clock."
"It's going to take us a few hours to get home on our bikes."
"What? Where in the world are you?"
The next thing I vividly remember was his response when I told him what we did and where we were. I can still hear his voice in my head to this day.
"You what!? You're where!?" His voice was very loud. I think he was very mad.
In no uncertain terms, Dad told us to stay put right where we were 'cause he was coming in the station wagon to pick us up. Since he knew the town, he knew exactly where to find the phone booth. That turned out to be the longest fifteen-minute waiting period ever. Almost. The ride home in the station wagon seemed equally as long, not to mention eerily silent. He'd loaded up our bikes in the back, and I don't recall him saying much or if he said anything at all. I don't remember if he even looked at me. Becky and I both slipped into the back seat. For Dad not to talk, you know he had to be livid. At home, Mom said I was grounded for a week. I have no idea what happened to Becky with her parents or whether they were ever told about our adventure by either her or my parents. We didn't talk about it much for a very long time.
All these many years later as my old age brings on frequent pangs of nostalgia, a teenage experience such as that epic bicycle ride to Rick Derringer's house and the subsequent ride with him on his motorcycle seem to make for a great conversation piece, if you ask me. Not too long ago, Becky and her husband invited me and my husband to dinner, and the topic of our bike adventure came up. Becky asked me, "Whose idea was that anyway?" I looked off to the side, pursing my lips, and accepted full responsibility. We had a good laugh, agreeing the the whole episode was pretty incredible.
As for Rick Derringer, he went on to have one fabulous career. He toured with the Rolling Stones, worked with Johnny and Edgar Winters, Ringo Starr and His All Star Band plus numerous other artists over the years and also enjoyed a successful solo career.
Phenomenal success aside, Rick's personal testimony in his bio on his website (rickderringer.com/bio – scroll to bottom of page to "Testimony") tells the story of a troubled rock star that ultimately faced overwhelming struggles in life. Drug addiction and immorality were taking a toll on him. And my favorite part of his story is how he eventually turned to Jesus Christ for healing in 1997. He met and married Jenda Hall, a Christian who helped him navigate his newfound faith and clean up his act. In 2001, Rick and Jenda, along with their two children, released their first Christian gospel album, "Aiming 4 Heaven." I think that's pretty cool!
You know what else is pretty cool? "Hang on Sloopy" is the official rock song of the state of Ohio, approved by the Ohio General Assembly in 1985! Ohio was the first state to boast an official rock song. Frequently performed by the Ohio State University Marching Band, "Hang on Sloopy" is still hanging on decades later. Here's a preview of a documentary called Hanging on to Sloopy: