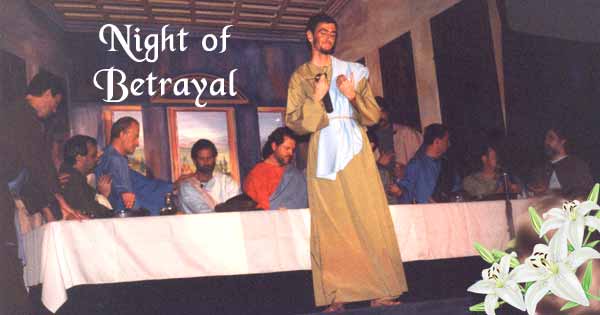 All Photo Credits: John and Linda Fischer
When the SACC Drama Ministry presented "The Living Dramatization of Leonardo da Vinci's The Last Supper" on April 19, 2000, during a Wednesday night service, virtually everyone in attendance claimed to have been drawn in by the intense reality of what had occurred on that pivotal night of betrayal. The dramatization was written by Ernest K. Emurian in 1954, and the performances by the good men of Southern Acres Christian Church, plus one from Calvary Christian, were nothing less than superb. It was as though we were right there in the Upper Room as the events unfolded. Ranking among my favorites, the drama is saturated with meaning and spiritual insight, expressed not only by the author but also by the artist of the famous painting himself. The rich layers of symbolism inspire us toward self-examination as each disciple shares his own personal reaction to Christ's tragic words, "I tell you the truth, one of you will betray me." For the past twelve days leading up to Good Friday, I have shared one video clip a day of each of the twelve disciples' soliloquies on my Facebook page.
A little history: The Duke of Milan commissioned the work on the Last Supper in 1495, and the famous painting is now one of the most recognized pieces of artwork in the world. The artist intentionally chose the exact moment immediately following the unexpected disclosure from Jesus. Each disciple appears to be taken aback as can be seen in facial expressions and body language, but all except Judas are wondering the same thing: "Is it I?" While Jesus is pictured as serene, Peter, always quick to draw a weapon, holds in his grasp a blade. Judas, the treasurer, is clutching a money bag, its contents possibly being the thirty pieces of silver he received as the price of betrayal. At his elbow is a spilled container of salt, symbolizing a broken friendship. Leonardo completed his work on the painting in 1498. It remains to this day a masterpiece which covers an end wall of the dining hall at the monastery of Santa Maria delle Grazie in Milan, Italy.
I first became aware of this dramatization by Emurian while visiting my parents' church in Florida in the late 1990s. The Last Supper is portrayed onstage by actors that represent each of the disciples. They are seated at the table exactly as in the painting with Jesus in the middle. The concept is that, one by one, the twelve disciples come to life out of the painting to deliver a soliloquy while the others remain frozen in their respective poses within the painting. The topic of their discourse is each one's self-analysis of their relationship with Jesus after being told of the imminent betrayal and that the betrayer was actually seated among them! Each disciple has a different emotion coursing through him as he gives his recitation.
Emurian's dramatization of The Last Supper has been performed in many churches and venues across the country over the years. I was so intrigued by it, I just knew my home church could present this drama and deliver an outstanding performance that would touch many hearts. So, having been involved with the drama ministry, I suggested the idea to our worship leader. In no time, we received approval from the church leadership. The first year, we had no special backdrop, but still the drama was so well received we decided to present it again. The second year, we went all out with the props, and the offer to borrow a backdrop from our youth minister's former church in Florida was like icing on the cake.
We even got costumes for Leonardo da Vinci and for two court pages to introduce and unveil the masterpiece. One extra special touch came at the close of the program when Jesus and the disciples—minus Judas, who had, of course, fled the scene—served communion.
As I studied the twelve soliloquies, I selected a short excerpt from each one that was unique to the respective disciple who said it. I could easily relate to quite a few of these thoughts and personal reflections. Read through them and decide for yourself which disciple's words resonate most with you. Perhaps there are several you'd choose. The excerpts are as follows:
1. James, the Less – "When Jesus called me to be one of his disciples, I followed Him. At the end of the first year of his public ministry, He chose me as one of the twelve Apostles, and since that moment I have walked with Him and talked with Him, stayed with Him and prayed with Him, trying to learn as much about Him and his Heavenly Father as I could.'"
2. Matthew – "Since that day when I repented and followed Him, I have studied our Scriptures closely and am now convinced that Jesus is the fulfillment of every prophecy about the coming Messiah, God's Anointed. I have listened carefully to his sermons. Some day I hope to write a paper proving He is the Messiah from our Sacred Writings …"
3. Andrew – "He must have seen something of value in me which the others overlooked because He selected me to be one of the twelve Apostles. I have been very close to the Master ever since. We have shared many a triumph and many a tragedy. I know in my heart that He is truly 'The Lamb of God.'"
4. Thomas – "While I do not look upon life with gloom and despondency, I usually demand proof before I believe; I want to see before committing myself. Yet I am not a man of doubt. Rather I feel sometimes that I am a man of daring."
5. John – "He called us, and we immediately left the boat and our father and followed Him. Since that time, I have tried to understand Jesus by loving Him. Sometimes I believe that He is as much of God as will ever possess a human life; and other times I am tempted to believe that He is the God who existed prior to creation …"
6. Thaddeus – "I feel unworthy to be numbered among the Apostles, but He selected me. I well remember the day. After a night in prayer, He called us to Him and gave us authority over unclean spirits and the power to heal every kind of disease and infirmity. Then He commissioned us to go forth and preach that 'The kingdom of heaven is at hand.'"
7. Nathaniel – "When I saw Jesus, He said, 'Behold, an Israelite in whom there is no guile.' 'How do you know me?' I asked. He answered, 'Before Philip called you, when you were under the fig tree I saw you.' … So the Master was actually telling me He had known me since the day I was born. Then it was that I confessed my faith."
8. James – "Once when people in a certain Samaritan village did not receive Jesus as we thought they should, we asked Him to call down fire from heaven to destroy them. He rebuked us as only He could and taught us that God's way was always one of love."
9. Judas – "And if I conspired with the chief priests and if I have thirty pieces of silver on my person, that's my affair. I believe in Jesus, but someone has to force the issue, make Him assert Himself as God's Messiah. He refuses to make a move. Well, I've made one. He hints that He knows what I've done … But I have my reasons."
10. Philip – "During these years of close fellowship with Jesus my faith in God has become stronger and deeper. I remember so well, before He fed the five thousand with five loaves and two fish, asking Him and the others, 'Where are we to buy bread that all of these may eat?' …
When Jesus began to tell us that God was our Heavenly Father, it was almost beyond my understanding."
11. Simon, the Zealot – "He has shown me that the conquest of the heart is the only true, sincere and lasting conquest. So I have given Him my highest loyalty and deepest devotion."
"Now the master says that there is a spiritual Roman among us; one who would attempt by force what can only be conquered by love. Who can it be?"
12. Peter – "And when I confessed Him as the Christ, the Son of the Living God, near Caesarea Philippi, He said, 'On this rock I will build My Church.' But a moment later, when I protested against His going to Jerusalem to suffer death at the hands of evil men, He rebuked me and said, 'Get thee behind Me, Satan.' So I am a mixture of good and evil, of Godliness and devilishness."
Eleven disciples out of twelve closed their soliloquy by questioning their own allegiance to Jesus. Each man knew he could be a possible candidate for the role of betrayer. But unlike Judas, who absolutely knew Jesus was referring to him and felt the need to defend his evil deed, the other men felt remorse and asked the question: "Is it I?"
I often must ask myself that same question. Like James the Less, I want to learn as much about Jesus as I can. Other times, maybe I identify with Peter who worried he was a mixture of good and evil. And when my mistakes and wrongdoings of the past haunt my memory, I feel unworthy like Thaddeus, and I may tend to forget that Jesus has forgiven it all.
How about you? Are you filled with doubt like Thomas? Can you relate to Peter's quick temper? Does the fact that Jesus knew who you were before you were born leave you awestruck like it did Nathaniel? Do you perhaps have a tendency to want to crush all enemies of our Christian faith like James and Simon the Zealot instead of extending love and grace? And have we not all at one time or another pointed blame at others instead of ourselves? Or do we all have a streak of Judas in us where we just want to take it upon ourselves to force things to happen whether it's God's will or not? It's a lot to think about.
To view more photos from the drama, click here. If you'd like to view the YouTube video of the entire program, including the music, scroll to the bottom of this page. After you've listened to each soliloquy, spend some time in personal reflection of your own relationship with Jesus during this Holy Week and give thanks for his sacrifice, forgiveness and the Father's amazing grace. Rest assured in His promise that we are sealed by the Holy Spirit for the Day of Redemption.
May you enjoy a Happy Easter celebration and a blessed Resurrection Sunday!