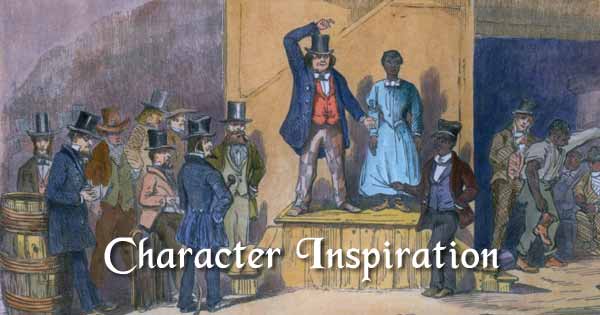 People often ask me how I came up with my characters and their stories in my books. In August of 2018, I published a blog post called "The Inspiring Story of Reverend George Dupee". You can read how Lexington's Reverend William Pratt, an abolitionist, helped raise enough money to purchase George Dupee at Cheapside, obtaining his freedom so he could return to pastor the slaves' church. Dupee was the inspiration behind the character of the slave preacher Micah in my book Ransom My Heart. However, the details of the fictional Micah's personal life are quite different from those of the real-life Reverend Dupee.
During a recent conversation with one of my readers, we discussed the scene in chapter one of Ransom My Heart where a Lexington minister, the fictional Leonard Thompson, attempts to purchase a teenage girl from Cheapside Auction Block. The girl had recently been manumitted (set free), but slave traders tricked her into handing over her manumission (freedom) papers and destroyed them. When the bidding goes beyond the limits of Reverend Thompson's purse, he boldly interrupts the auctioneer and jumps up on the block to plead with the bidders and explain the girl's situation, but to no avail. The bidding continues and she's sold for an extravagant amount.
Below is an excerpt from the Adams County, Mississippi, Record Book which details another true-life account involving Reverend Pratt of Lexington, this time in an attempt to purchase the two teenage daughters of Nancy Lee. It is from this account that I based the above mentioned scene of the teenage girl in my book.
On August 16, 1999 in Mississippi, an article appeared in the Natchez Democrat entitled "Rare slave records found in courthouse". It went on to say, "The records are chilling. Written in precise script on yellowing pages, they document the vital statistics of slaves brought from Kentucky to Mississippi just before the Civil War."
Reverend Pratt Tries to save girl being sold at Cheapside
"In 1860, William M. Pratt, minister of the First Baptist Church of Lexington was asked to help in the desperate situation of a member of their associated church the First African Baptist Church. Nancy Lee, a slave, had two daughters about to be sent to the slave traders' auction block and sold south. Her husband Tony Lee, a free black, had succeeded in purchasing their two daughters freedom and had turned the papers over to her just before his death. Slave traders seeing great profit to be made in selling her two daughters had visited Nancy and tricked her into handing over the manumission papers which they then destroyed. Pratt agreed to help. Nancy's daughters went to the auction block at the Cheapside slave market near the court house on "County Court Day", February 13, 1860. Pratt began bidding on Nancy's first daughter but the price quickly reached one thousand dollars. He jumped up on the auction block and explained the situation to the crowd and begged them to withdraw from any more bidding. But the slave traders resumed the bidding and ran the price up to $1,700, an amount Pratt and his church members could not afford. She was sold to a slave trading firm run by Silas Marshall, mentioned often in the 'Record Book', who operated with his brother out of an office on Main Street opposite the Phoenix Hotel in downtown Lexington. Nancy's second daughter was sold in the same way for $1600."
Those who are familiar with what happened in the first chapter of Ransom My Heart will see right away how the historical sale of Nancy Lee's daughters and Reverend Pratt's attempt to purchase them influenced my writing for the fictional Leonard Thompson and the fictional girl named Lottie. If you haven't yet read Ransom My Heart, you will enjoy following this story line—intricately woven into the main story—and discover what becomes of Lottie. Read it on Kindle for 99 cents or paperback for $9.99. Available on Amazon.