A short story by Judy Gerlach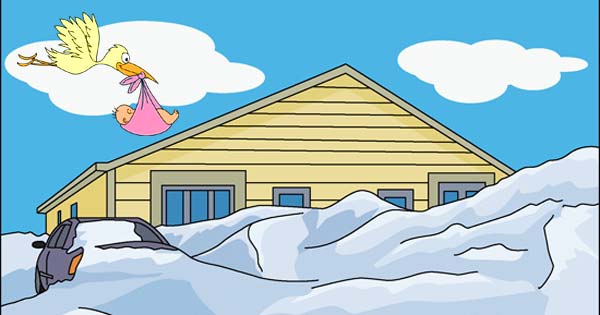 "This can't be happening." I spoke to myself in a barely audible whisper. I looked at the clock on my bedside table. It was one o'clock in the morning. My husband Greg was fast asleep beside me. Our four-year-old daughter Lisa was sleeping soundly in the next room. It happened again. "Oh no." I was afraid to move. For the next ten minutes or so, I did nothing but pray and hope it would stop. But it didn't. I was having contractions. Very mild, but rhythmic contractions.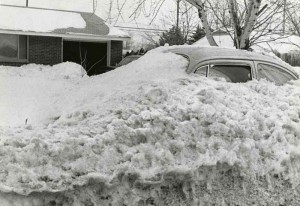 My pregnancy was only six months along on this frigid December night in Greenville, Ohio, only two weeks before Christmas, 1977. The temperature outside had dipped below zero, and there was at least a foot of snow on the ground. The main roads of our small town had been cleared, but the side streets were still icy and treacherous. I dreaded the thought of having to go out in the freezing cold, but the contractions continued at regular, close intervals, and I knew I couldn't ignore them.
I nudged Greg's arm. "Greg, wake up. Something's wrong."
He rolled over, slightly groggy. "What's the matter?"
"I'm having contractions. They're mild, but they won't stop." I had his full attention now.
"No. Are you sure? For how long?" He was sitting straight up in bed at this point.
"About fifteen minutes, steady."
Greg was on the phone immediately calling our family doctor. The doctor said we should meet him at the hospital emergency room as soon as we could. Greg started the car to warm up the engine. We gathered our sleepy little girl from her warm, cozy bed and bundled up to brave the winter night air. It was nearly two a.m., and we were on our way to the hospital.
While my worried husband sat in the waiting room with a half-awake and very confused child, I was taken to the examining room. Things were worse than I'd imagined.
"You've already started to dilate," the doctor said.
My heart sank. I had never felt so frightened and stunned. After all, I had successfully carried one baby to term. Why this time? Since there were no obstetricians in Greenville, and since our small town hospital had no means of caring for a premature baby, our doctor strongly suggested that we go to a hospital in the nearest big city, Dayton, Ohio – an hour away.
"If you stay here, and if you deliver prematurely, your baby will have to be transferred to Dayton anyway. The time it takes to get to a hospital there would be critical minutes in the baby's struggle for life. If you deliver in Dayton, you'd already be where the baby would receive immediate neonatal care. Plus, you need to be under the care of an obstetrician. That way you'd have a better chance of getting the contractions stopped."
It was a "no brainer." Within thirty minutes, I was transferred to a waiting ambulance.
The doctor let the Dayton hospital know we were coming. With the siren blaring, the ambulance began the dangerous trek over the icy roads. Greg drove our car and followed right behind the ambulance. Lisa tried to sleep in the back seat, but the noise from the siren frightened her. She also knew her mommy was in there. That alone must have been very traumatizing. But we all made it to Dayton safe and sound. It was half past three.
After being examined by an obstetrician, I was admitted to the hospital. The doctor told me that I had an "elastic cervix" which starts to thin a little and open under the weight of the baby. He said that it had triggered the mild contractions. He felt confident that with bed rest and injections of a muscle relaxant the contractions would stop and the cervix would start to close again. I didn't know how long I'd have to stay in the hospital, but I'd definitely be confined to bed rest for the remainder of the pregnancy. We knew we didn't have any choice in the matter. The precious little life in my womb was top priority. It was all in God's hands.
Lisa gave me a great big hug, her eyes welling up with tears. "Good-bye, Mommy. I love you."
"I love you, too, sweetheart." I kissed her cheek and stroked her hair. "Be a big girl. Okay?" The moment was almost more than I could bear. It occurred to me that Lisa and I had never been apart for more than a day of her entire life.
By the time things settled down and I was taken to my room, it was already the dawn of another day. Greg couldn't go with me to my room because Lisa was with him and children were not allowed in the high risk pregnancy unit. Exhausted, he called my parents, who happened to live in Dayton, and told my mother what was going on. She started making preparations to care for Lisa. She just needed a few days to get things in order at her house. With that taken care of, Greg called my room to let me know he was taking Lisa home so they could both get some much-needed rest.
I, on the other hand, was left to observe the busy activities of the nurses buzzing in and out of my room and up and down the hall during the shift change. It took a while, but things finally calmed down. I received the first of many injections of muscle relaxant in my hip – a routine that would be repeated every four hours for the next several days. My bed was positioned so that the lower half of my body was slightly elevated to take the pressure off the cervix. After a while, I didn't even notice it.
Mom came by to see me that afternoon. "When you're expecting, sometimes you have to expect the unexpected," she said.
I laughed. "I expected you to say that!" Mom always knew how to lift my spirits. And I knew I didn't need to worry about Lisa.
Eventually, the contractions tapered off. By the end of my second day in the hospital, they had completely stopped. My bed was kept tilted for the rest of the week, at which point the doctor said that my cervix had closed as much as it ever would until after delivery.
"Do I get to go home now?" It was December 16 – Christmas was just over a week away.
"Not yet," the doctor said sympathetically, shaking his head. "We need to monitor your uterine activity a while longer."
"How long?"
Knowing what I was worried about, he smiled. "You want to be home in time for Christmas, don't you?"
"My little girl…I can't miss Christmas with my family." My voice broke, and my eyes brimmed.
"If there's no change for another week, I think we can send you home – to bed rest, don't forget!"
That suited me just fine. I spoke to Lisa on the phone and told her the good news. She was ecstatic to learn that I would be home in time to spend Christmas with her.
"I helped Daddy finish the Christmas shopping," she beamed. "And we put up the tree and decorated. You don't have to do anything, Mommy. You can rest in your bed."
The week seemed like an eternity. The hours dragged by, and my sleep schedule was all messed up. In order to keep from getting depressed, I talked to my unborn child. When I'd feel a good kick in my side, that's all it took to remind me that it was all worth it for the precious wee one who was counting on me for survival.
We made it through the week, and when the doctor came in to see me two days before Christmas, he said, "I guess you're ready to get out of here. How does today sound?"
It couldn't have sounded any better. Greg took me home later that day. The roads were much improved, and the trip home was not nearly as perilous. Mom and Lisa were watching for us through the window. Tears trickled down my cheeks when I saw Lisa's smiling little face peering at me through the frosted glass.
With two and a half months until the due date in mid-March, I obeyed the doctor's orders and stayed in bed. Everyone pitched in to help, and it seemed that we were finally in the "safe zone" until…
Mother Nature struck again at the end of January with one of the worst blizzards Ohio had ever seen – the Great Blizzard of 1978, also known as the Storm of the Century. With wind speeds reaching up to seventy miles per hour, downing power lines and tree limbs, this was not a good time to have a baby. In fact, we couldn't get out of the house. A solid wall of snow blocked each of the exit doors.
"I hope you know you can't have the baby now," Greg said, halfway joking. But actually there was some merit to his profound remark. It took him two days to dig a way out the front door. The winds had died down, but it continued to snow for several more days. The roads weren't clear enough for travel until the end of the first week of February. And not a day too soon…
On February 8, over five weeks early, the baby decided it was time. Greg took me to Dayton in the car. In less than an hour after we arrived at the hospital, our second daughter was born – another beautiful little girl. Lindy Marie spent her first few days in neonatal intensive care but was soon declared healthy. Our prayers were answered, and our hearts overflowed.
Premature labor, two weeks in the hospital, two months in bed, and braving the elements of Ohio's fiercest winter storm had made us feel like the odds were stacked against us. But when I cradled my newborn baby in my arms and gazed upon her tiny features, I knew it had all been worth it. By the grace of God, we'd made it through – against all odds.